The Carolena Mátus JaZz Group
Creatively serving your entertainment needs
in a manner consistent with artistry
excellence and pure enjoyment!
Performance Booking
"From the moment I met Carolena Mátus several years ago, it was obvious that she loves her art and is a very talented vocalist with a solid knowledge of her genre.

"Since then, I have had the privilege of working with Carolena on several occasions, both as a Jazz performer and in her role as Board member of the Seattle Chapter of the National Association for Catering and Events (NACE).

"In both capacities, I have come to know Carolena as an extraordinary professional with flawless follow through, [upon whom] you can solidly count. Carolena cares deeply about doing an excellent job and her pleasant and calming demeanor makes her a joy to be around and listen to. Most recently, during one of her RLife Live performances in our Renaissance Lobby Court Lounge, it also became obvious that Carolena has a lot of community support and knows how to draw a crowd, since we had great bar attendance and an extra joyful atmosphere during her performance."

~ Pieter Koomen
Director of Catering and Events
Renaissance Seattle Hotel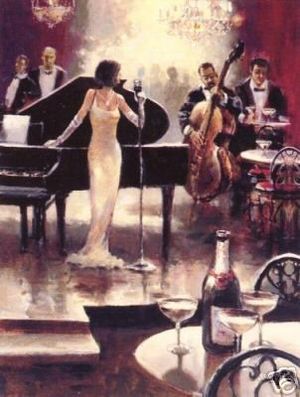 Live, high quality music is fun and entertaining – as well as the perfect element to add that special touch of class and elegance to your event.   In the background of every great party are excellent musicians.  It's not coincidence that both vocal and instrumental musicians are called "artists," for the language with which they communicate stirs within us the intangible, touching our souls and lifting our hearts.
Are you seeking excellent, professional entertainment for your upcoming private or business event? Perhaps you are thinking of hosting an intimate house concert or exciting party and wish to impress your guests or business clientele?  Are you planning your wedding and feel that live music will help make your special day even more memorable?  Would you like to boost employee morale with a special lunchtime or weekend concert? Are you organizing a trade show or business opening?

What are some of the benefits of presenting live music?

The Carolena Mátus JaZz Group is live jazz - the only original American art form.  JaZz is a word which evokes any number of definitions:  The exquisite pairing of Ella Fitzgerald and Louie Armstrong, the bebop of Charlie Parker and Dizzy Gillespie, the bossa nova grooves of Antonio Carlos Jobim, the romantic moods of Johnny Hartman, the rhythmic creativity of Anita O'Day or the rich emotive lyric interpretation of Carmen McRae.

The Carolena Matus JaZz Group will tastefully supply the aural ambience for your event.  Perhaps you would like to relax with the melancholy ballad "In the Wee Small Hours of the Morning," liven up the evening with the Latin feel of "Brigas Nunca Mais," get things swinging with "It Had to Be You" or move your feet to an original composition.  The Carolena Mátus JaZz Group can adapt to a great variety of situations from background music to full concert mode and even dancing to swing or those heart-melting cheek-to-cheek ballads.

We work closely with you to make certain you have just the right music to make your event a huge success!  Let us know what you're interested in and we'll work with you to supply the right mood and instruments to satisfy your musical taste.

Comprised of the top "A List" JaZz musicians in Seattle and beyond, the Carolena Matus JaZz Group is completely customizable.  Whether you are looking for a voice and instrument duo, trio, quartet or band, we will bring you high quality professional entertainment.  The Carolena Matus JaZz Group, creatively serving your entertainment needs in a manner consistent with artistry, excellence and pure enjoyment!
 
Carolena Mátus is a classically trained singer and JaZz artist, who spent the majority of her career living and performing in Las Vegas, NV, the Entertainment Capital of the World.  Her distinctive vocal quality, exceptional pitch and ear, combined with her artistic lyric interpretation and phrasing set her apart as a vocal musician of excellence.

Randy Halberstadt has been a major figure on the Pacific Northwest JaZz scene for many years. A multi-dimensional pianist, he is equally at home playing bebop, Latin and a host of other JaZz genres. He has performed with many JaZz luminaries, as well as appearing at the Monterey Jazz Festival.

John Stowell (when available) is an internationally renowned JaZz guitarist, composer, clinician and recording artist, whose unique, masterful playing style is loved and respected by both fans and fellow musicians the world over.
 
The Carolena Matus JaZz Group is rounded out by multiple combinations of instruments played by some of the finest "A List" musicians the Pacific Northwest has to offer.  Upright bass is most definitely included by a variety of the very best bassists in the Seattle area.  Moreover, we can also add a variety of horns and/or drums, and we will reach into our array of musicians to accommodate your musical desires.

For voice and instrument duo, trio, quartet or band, please click on this link to contact Carolena and discuss booking your special event.